I will be adding to the list as I make my way through the nominees ... favorites closest to the top.
The Ghosts of Tupelo Landing
by
Sheila Turnage
My rating:
4 of 5 stars
I didn't think there would REALLY be a ghost! That may help get some of my students to read it. Turnage writes about her kooky characters with verve:
p. 85 - Nobody knows for sure if Sal actually files taxes. Dale and me suspect she fills out the forms for fun, same as Miss Lana does Sudoku.
p. 186 - "I hope he ain't run over by ghosts," Dale whispered, slapping at a mosquito. "That would be hard to explain at the emergency room."
p. 286 - "I'd love to stay and enchant you further" ...
p. 334 - "I only ask because I hate change unless it's my idea. I need time to overprepare."
Also LOVE the references to social skills.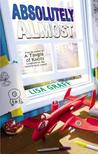 Absolutely Almost
by
Lisa Graff
My rating:
4 of 5 stars
Oh, Albie.
Newbery criteria mentions "distinguished" a lot, which I know is not the same as "distinctive," but Graff has created a unique character here in that he is in fact NOT distinctive. He's just kind of stumping along in a below average way. And by the end, he's kind of ok with that (although disappointed to not be diagnosed with a reading disorder, because that would have made his parents feel better).
In a society where the pressure is on to not only keep up but edge out, and in a literary landscape full of precocity and amazing talents, this book stands apart.
It reminded me of an article a friend sent me last week, titled "You Don't Have a Purpose." She said it made her feel relieved - it encourages the reader to find a career or life they love, but tells them to stop wasting energy looking for a Purpose with a capital P. Kind of like how Donut Man doesn't HAVE to have superpowers. He can just be a nice guy who likes donuts. Be nice. Choose kind. That's enough.
Hope Is a Ferris Wheel
by
Robin Herrera
My rating:
4 of 5 stars
What can I say, I'm a sucker for any book that includes lists ... and I LOVED Star's vocabulary sentences. I'm glad that there are still coming-of-age novels coming out that present fresh characters and true voices.
And while I was confused about why Denny kept showing up to the club, I did like the way the group evolved. The minute-taking made me smile.
The Night Gardener
by
Jonathan Auxier
My rating:
4 of 5 stars
I'm still kind of confused as to how the tree came to be, but I enjoyed the storytelling. Speaking of which:
p. 207: "Stories come in all different kinds. ... There's
tales
, which are light and fluffy. Good for a smile on a sad day. Then you got
yarns
, which are showy - yarns reveal more about the teller than the story. After that there's
myths
, which are stories made up by whole groups of people. And last of all, there's
legends
." She raised a mysterious eyebrow. "Legends are different from the rest on account noone knows where they start. Folks don't
tell
legends; they
repeat
them. Over and again through history."
p. 214: "You asked me for a story; now you call it a lie." She folded her arms. "So tell me, then: what marks the difference between the two?" ... "A lie hurts people," she finally answered. "A story helps 'em."
Half a Chance
by
Cynthia Lord
My rating:
4 of 5 stars
Quiet and introspective, this novel snuck up on me and left me in tears. I really liked the photo contest as a way to structure the chapters, and for the final realization that sometimes it's enough to just look and enjoy rather than having to capture and analyze.
Zane and the Hurricane: A Story of Katrina
by
Rodman Philbrick
My rating:
3 of 5 stars
History classes need to ease up on the details of every explorer and colonial governor, and start jumping ahead to more recent and relevant events.
I don't think I really understood just how horrendous conditions were in the first few days after Katrina until I read this and "Upside Down in the Middle of Nowhere." It is unconscionable that initial relief efforts were so piss poor in a country of wealth and weather warnings.
Will be adding this one to the collection.
Under the Egg
by
Laura Marx Fitzgerald
My rating:
3 of 5 stars
I did like the art history and WWII ... but not sure if my kids would. I think I will bring this in the fall as a "preview" from the public library and see what pilot readers think. Sadly, I haven't been able to get anyone to read The Mixed-Up Files.
The Meaning of Maggie
by
Megan Jean Sovern
My rating:
2 of 5 stars
Didn't love the voice ... it felt like the author was trying too hard.* Also found the father kind of annoying.** But one star for including a character with MS and one for making me smile a few times.
p. 24: I'd always thought that all the answers to life's questions were in books. I'd thought knowing where the sidewalk ended and where the red fern grew and where the wild things were could help me figure out LIFE. But maybe Dad was right. What if I needed to write my own story?
p. 139: Most kids only use encyclopedias for their science projects but I've discovered they only give very top-line information. If you sleuth out more specific references, the information gets better and better and you look smarter and smarter.
*Which is weird because it's based on her as a kid, right?
**I feel a little bad saying that, but this is fiction, not a memoir.