I will be adding to the list as I make my way through the nominees ... favorites closest to the top.
Rain Reign
by
Ann M. Martin
My rating:
4 of 5 stars
This is one of those books on the list that I picked up reluctantly ... a girl with Aperger's and her dog? Not my favorite topics. But I really really really liked it. Rose's narration was matter-of-fact yet sweet, and I loved that she tried to find solutions to her problems.
Josephine: The Dazzling Life of Josephine Baker
by
Patricia Hruby Powell
My rating:
4 of 5 stars
Too long for a Mock Caldecott readaloud, but I will be purchasing for the collection. Months later: Yay, it made the RI Mock Newbery list! Lively, entertaining, and interesting ... like Ms. Baker herself.
Caminar
by
Skila Brown
My rating:
3 of 5 stars
I read this over the summer and didn't put any comments at the time. I'm hard-pressed to think of any now ... I remember that it was in "verse," and it involved guerillas. It wasn't bad, it wasn't great.
How I Discovered Poetry
by
Marilyn Nelson
My rating:
3 of 5 stars
When I ordered this from the library, I noticed that it was catalogued in a ton of different places at different buildings - children's, YA, adult, poetry, memoir ... it definitely doesn't belong in a children's room. The subject matter will go flying over their heads. We agreed at our Mock Newbery meeting, though, that many of the poems could be used in high school history classes.
Egg and Spoon
by
Gregory Maguire
My rating:
2 of 5 stars
At first, I loved this book. I found Maguire's writing delightful, and wanted to know what would happen. And then Baba Yaga showed up. Ugh. And then everybody met up again and the egg went missing and I was bored. Returned to the library after making it through 400 pages.

Nest
by
Esther Ehrlich
My rating:
2 of 5 stars
So much in this book was too subtle for kid readers. I feel like there are two types of children's books being published these days: books to actually entertain children, and books to impress adult Newbery voters. This falls into the latter.
View all my reviews
Revolution
by
Deborah Wiles
My rating:
2 of 5 stars
I really wanted to like it, but it draaaaaaaaaagged. To the point that with 100 pages to go, I'm returning it to the library.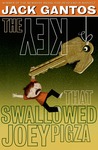 The Key That Swallowed Joey Pigza
by
Jack Gantos
My rating:
1 of 5 stars
It was just way too dark for me. Why did nobody from school come to check on Joey? I never read book 4, so I had no idea about 1. What is the deal with his dad's face surgery? or 2. Who is this Olivia? Her speechifying seemed forced. Overall, the book kind of stressed me out.