My favorites are at the top.
The Crossover
by
Kwame Alexander
My rating: 5
of 5 stars
Strong voice, lots of true emotions. After discussion and reflection, I upped my rating to a 5.
Brown Girl Dreaming
by
Jacqueline Woodson
My rating:
5 of 5 stars
I am highly critical of novels in verse ... this one passes the test. Woodson delineates her childhood - and her struggle with her family's North v. South identity - through more than 300 pages of often searing poetry.
Choice lines:
p. 69
"As the switch raises dark welts on my brother's legs / Dell and I look on / afraid to open our mouths. Fearing the South / will slip out or / into them."
p. 129
"But are hearts aren't bigger than that. / Our hearts are tiny and mad."
p.176
"It's hard to understand / the way my brain works - so different / from everybody around me. How each new story / I'm told becomes a thing / that happens, / in some other way / to me ...!
Keep making up stories, my uncle says.
You're lying, my mother says.
Maybe the truth is somewhere in between / all that I'm told / and memory."
p. 226
"But I don't want to read faster or older or / any way else that might / make the story disappear too quickly from where it's settling / inside my brain, / slowly becoming / a part of me."

The Riverman
by
Aaron Starmer
My rating:
5 of 5 stars
First off, I have to say that the writing was brilliant. Wow. A plus to Starmer for his command of language.
And the plot was sophisticated and fascinating; I was full of delicious dread for a lot of it. Perfect for middle schoolers - eerie and hints of illicit activity.
But the ending. Meh. I don't want to have to read two more books to have explained. So 4 stars in terms of Mock Newbery consideration.
But 5 stars for the reading experience. Please don't let me down with the sequel.
Upside Down in the Middle of Nowhere
by
Julie T. Lamana
My rating:
4 of 5 stars
Powerful stuff. Talk about delineation of setting ...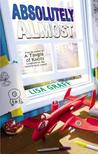 Absolutely Almost
by
Lisa Graff
My rating:
4 of 5 stars
Oh, Albie.
Newbery criteria mentions "distinguished" a lot, which I know is not the same as "distinctive," but Graff has created a unique character here in that he is in fact NOT distinctive. He's just kind of stumping along in a below average way. And by the end, he's kind of ok with that (although disappointed to not be diagnosed with a reading disorder, because that would have made his parents feel better).
In a society where the pressure is on to not only keep up but edge out, and in a literary landscape full of precocity and amazing talents, this book stands apart.
It reminded me of an article a friend sent me last week, titled "You Don't Have a Purpose." She said it made her feel relieved - it encourages the reader to find a career or life they love, but tells them to stop wasting energy looking for a Purpose with a capital P. Kind of like how Donut Man doesn't HAVE to have superpowers. He can just be a nice guy who likes donuts. Be nice. Choose kind. That's enough.
Rain Reign
by
Ann M. Martin
My rating:
4 of 5 stars
This is one of those books on the list that I picked up reluctantly ... a girl with Aperger's and her dog? Not my favorite topics. But I really really really liked it. Rose's narration was matter-of-fact yet sweet, and I loved that she tried to find solutions to her problems.
Josephine: The Dazzling Life of Josephine Baker
by
Patricia Hruby Powell
My rating:
4 of 5 stars
Too long for a Mock Caldecott readaloud, but I will be purchasing for the collection. Months later: Yay, it made the RI Mock Newbery list! Lively, entertaining, and interesting ... like Ms. Baker herself.
The Ghosts of Tupelo Landing
by
Sheila Turnage
My rating:
4 of 5 stars
I didn't think there would REALLY be a ghost! That may help get some of my students to read it. Turnage writes about her kooky characters with verve:
p. 85 - Nobody knows for sure if Sal actually files taxes. Dale and me suspect she fills out the forms for fun, same as Miss Lana does Sudoku.
p. 186 - "I hope he ain't run over by ghosts," Dale whispered, slapping at a mosquito. "That would be hard to explain at the emergency room."
p. 286 - "I'd love to stay and enchant you further" ...
p. 334 - "I only ask because I hate change unless it's my idea. I need time to overprepare."
Also LOVE the references to social skills.
Dory Fantasmagory
by
Abby Hanlon
My rating:
4 of 5 stars
Adorable.
View all my reviews
The Night Gardener
by
Jonathan Auxier
My rating:
4 of 5 stars
I'm still kind of confused as to how the tree came to be, but I enjoyed the storytelling. Speaking of which:
p. 207: "Stories come in all different kinds. ... There's
tales
, which are light and fluffy. Good for a smile on a sad day. Then you got
yarns
, which are showy - yarns reveal more about the teller than the story. After that there's
myths
, which are stories made up by whole groups of people. And last of all, there's
legends
." She raised a mysterious eyebrow. "Legends are different from the rest on account noone knows where they start. Folks don't
tell
legends; they
repeat
them. Over and again through history."
p. 214: "You asked me for a story; now you call it a lie." She folded her arms. "So tell me, then: what marks the difference between the two?" ... "A lie hurts people," she finally answered. "A story helps 'em."
Zane and the Hurricane: A Story of Katrina
by
Rodman Philbrick
My rating:
3 of 5 stars
History classes need to ease up on the details of every explorer and colonial governor, and start jumping ahead to more recent and relevant events.
I don't think I really understood just how horrendous conditions were in the first few days after Katrina until I read this and "Upside Down in the Middle of Nowhere." It is unconscionable that initial relief efforts were so piss poor in a country of wealth and weather warnings.
Will be adding this one to the collection.

The Mark of the Dragonfly
by
Jaleigh Johnson
My rating:
2 of 5 stars
At our Mock Newbery discussion, some people praised the world-building, but I thought it was lacking. For example, the mention at the end of the special coating on the objects that fell from the sky didn't make any sense.

Nest
by
Esther Ehrlich
My rating:
2 of 5 stars
So much in this book was too subtle for kid readers. I feel like there are two types of children's books being published these days: books to actually entertain children, and books to impress adult Newbery voters. This falls into the latter.
Revolution
by
Deborah Wiles
My rating:
2 of 5 stars
I really wanted to like it, but it draaaaaaaaaagged. To the point that with 100 pages to go, I'm returning it to the library.
The Misadventures of the Family Fletcher
by
Dana Alison Levy
My rating:
1 of 5 stars
Just because a family has two dads and four adopted kids doesn't make them all that interesting. I didn't get a true sense of anyone's personality; the omniscient narration seemed all over the place, and I didn't really care about any of the characters. I did, however, like the short notes that started each chapter. That was a nice touch. Maybe if the entire book had been epistolary, I would have liked it more.